Piquette literally finishes what we started
For us winemakers, this was the discovery of the century. Piquette is made from the pressed grape skins that are left after we make wine. Et voila ! A surprisingly refreshing and bubbly drink, which also helps us to close our loop.
The perfect summer drink
Refreshing, low in alcohol (5%), with a nice fizz, and completely circular. It's not sparkling wine. Nor is it cider… Piquette is in a category of its own; a new product on the Dutch market. It's your perfect aperitif or borrel-buddy, always down for spontaneous picnics, a day at the beach, or relaxing on a sunny terrace. Piquette is your new, favourite cool-down.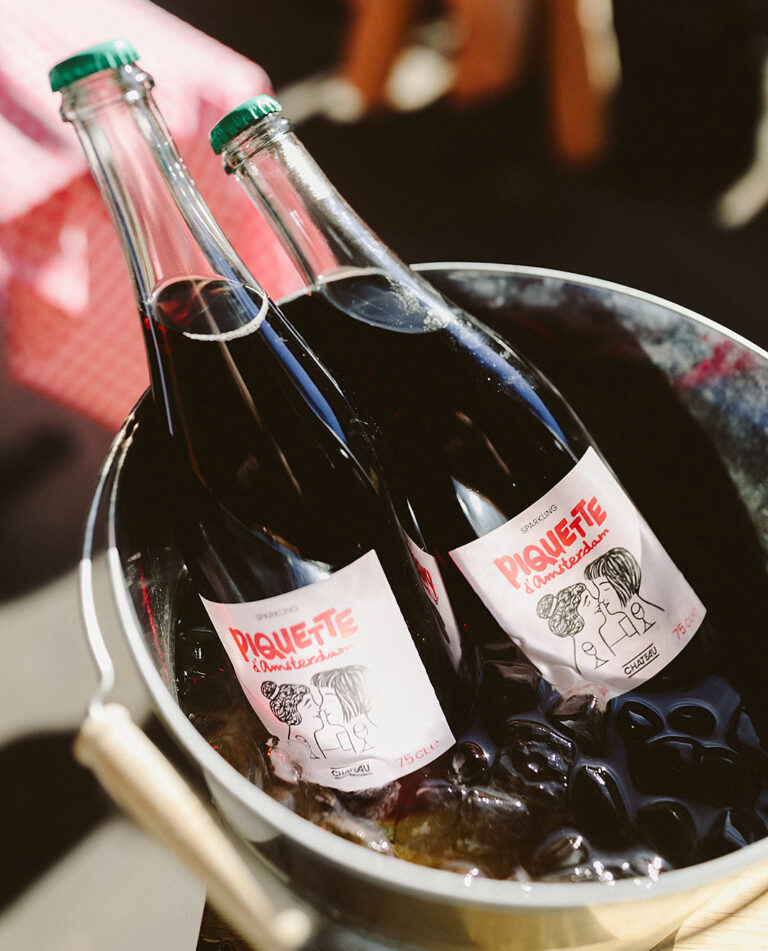 Piquette '20
Modern. Fizzy, fruity, refreshing & funny. Aromas of ripe red fruits. More tart than sweet.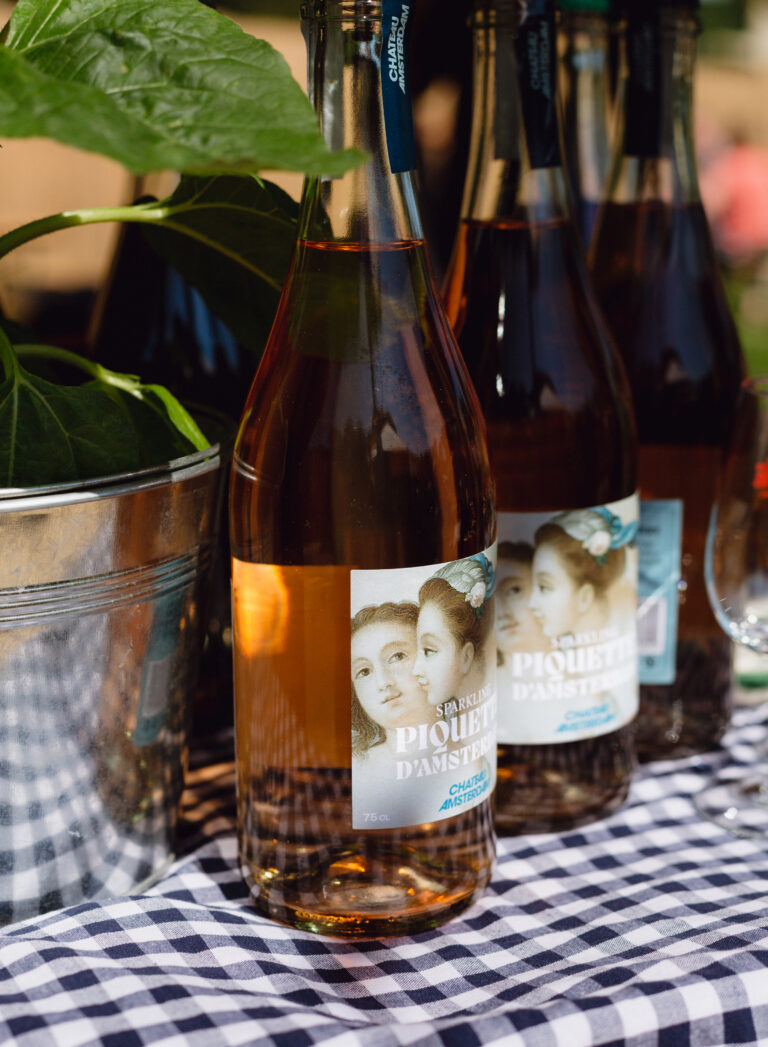 Piquette '21
Gastronomic. An embrace of violet, jasmine flowers & wild red raspberries. Well balanced and creamy.
Friday drinks with Piquette
During the month of August we will share the summer – and Piquette – every Friday! Instead of hosting our Urban Wine Tasting, we decided to change things up and open up our sunny terrace for a celebration of all things Piquette. Grab your loved ones and cheers with this fizzy borrel-buddy during our Friday drinks.
This is how we make our Piquette
When making wine, you are left with a residual product; pomace – the leftover skins, seeds and stems of the grapes. Normally the pomace would be considered a waste product but at Chateau we think this is an eternal shame because you can make the wine-making process more sustainable by making proper use of these residual flows. This is where Piquette comes in. The residual product undergoes a second fermentation. In other words, a new process where alcohol is developed.
For the fermentation of our Piquette '20, we added mineral water, sugar and yeast to the grape skins. The yeast cells eat the remaining sugars from the grape skins and the added sugars, converting them into alcohol. Carbon dioxide is also created during this process, which is why Piquette is nice and fizzy. Our Piquette '21 was made differently, as we only used water and lots of love and attention to extract the flavors, alcohol and color from the remaining pomace.
Piquette d'Amsterdam
With the brand Piquette d'Amsterdam, we produce our two types of Piquette. One is accessible, and refreshing with flavours of ripe red fruits. The other is a bit more complex, gastronomic, and with a lighter flavour profile. Which one suits you best?
Shop our Piquette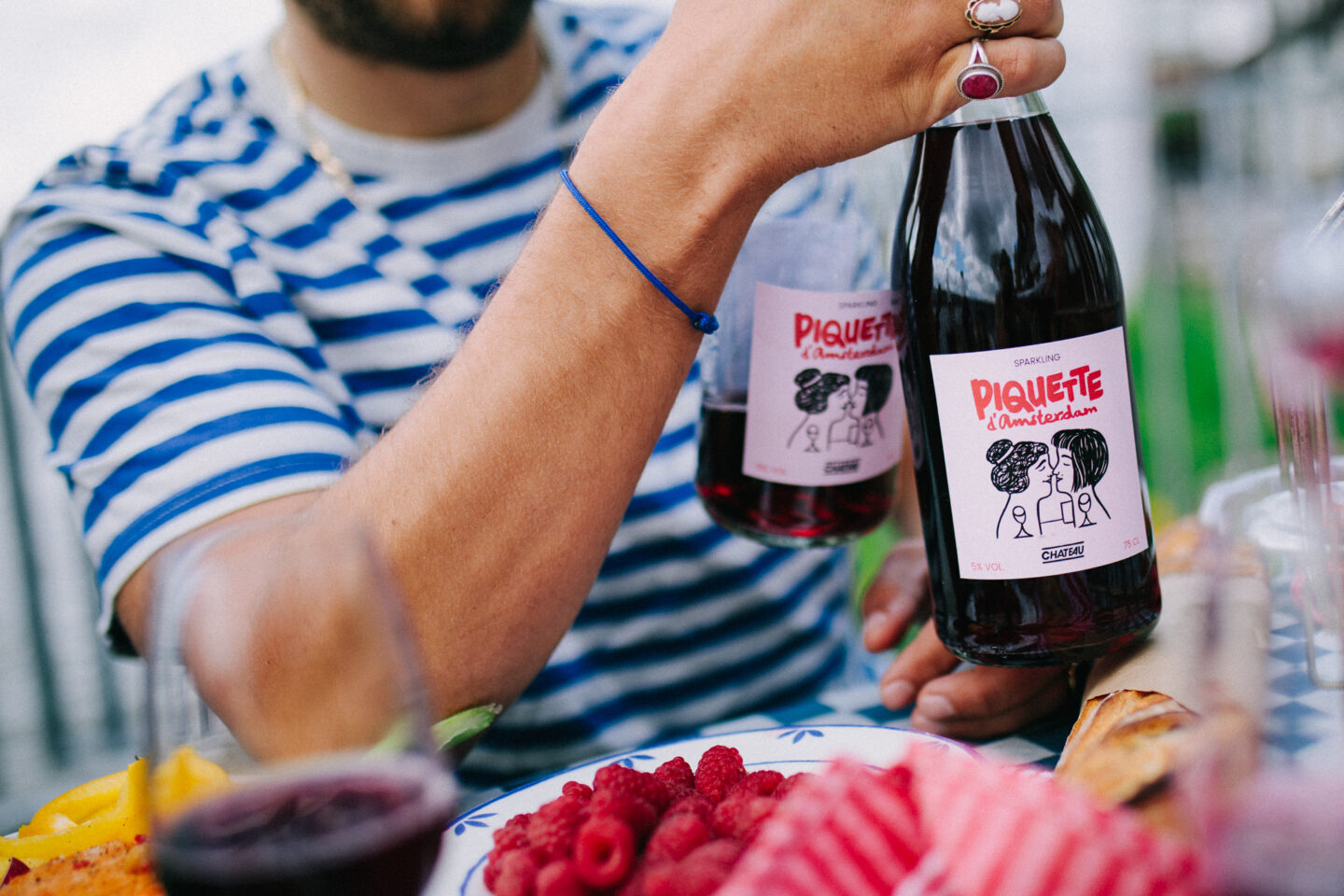 Enjoy your glass of Piquette here
Next to our own (web)shop, you can also find Piquette at every Stach and in multiple cafes and restaurants in and around Amsterdam. Wondering where exactly you can get this sparkling drink? Check the map below or our Google Maps.
Piquette - your new favourite summer drink!
…but strangely enough, it's forbidden.
Huh, forbidden?!
European regulations stipulate that you're not allowed to upcycle the residual product of wine into something tasty. Well, you can make Piquette, but you're not allowed to sell it (with the exception of sales between the winemaker and relatives). So, become part of our family and sign our petition to make Piquette available for everyone.