The Netherlands' first urban winery. Grapes from Europe, wine from Amsterdam. Produced by two generations since 2017. Workspace for creative businesses and a meeting space for external clients looking for an inspiring environment.
The 2019 fermentation process has started!
20-09-2019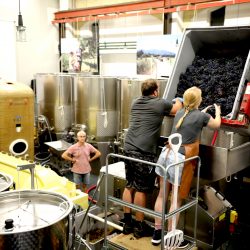 Come over to take a look
On Saturdays from 12h to 19h we open our doors for visitors. Order a glass of wine or freshly pressed juice at the bar and get to experience how our wines are made from up close. Wanna smash those grapes with bare feet? Join us!
Get your feet dirty
New office space available
12-09-2019
Will you be our new neighbor?
We have a new space available for a creative company! The room is built in a very playful way by using containers. This creates 2 floors, working space for 10-12 people and enough privacy for meetings.
Take a look around
Get your 'Chateau' at
27-08-2019
New ambassadors
We proudly present some of our new ambassadors. We recently were added to the wine list of 'Skatecafé' and 'De Zuyd'. You can now even order a bottle during your stay in the beautiful 'Sir Adam Hotel'.
Check out all our wines