Home
/
Vriendenclub LP 2.0 EN
Make Chateau your castle too
The Chateau Amsterdam Investorsclub consists of entrepreneurs, professionals and enthusiasts. The first group of investors helped Chateau scale from start- to scale-up. The second group are sharefunding co-owners providing Chateau with new energy for a next phase. Sounds like you as well? 
Reserve stock for a next round
Together we'll build Europe's largest urban winery
We've experienced rapid growth since our founding in 2017. Our team now consists of nearly 20 passionate professionals. Our revenue has multiplied tenfold in the last four years. It's our mission to release the world of wine of her dogma's and make her accessible for a broader audience. To show how we do this, we open our winery doors on a daily basis for anybody who's interested. However, we're starting to burst out of our seams. We want to make more wine, we want to invite more people to our winery and reach a larger audience. Therefore, we're building a new urban winery. Twice the size, in Amsterdam Noord. After a successful first round of sharefunding we've welcomed 264 new investors in our group of friends. At the end of 2022 it's likely we'll start a new round of public funding. Providing you with another opportunity to join our group of friends.
Do you want to join us?
April update: Q1 revenue target achieved
we've reached and over-performed on our revenue target for the first quarter of 2022! With 32.909 bottles sold in the first 3 months of the year, we've already surpassed the total sales of 2020. 🎉 How awesome is that? Bursting with motivation we're ready to take on the rest of this year to achieve our growth plans.
Henk Jan Beltman, Chief Chocolate Officer Tony's Chocolonely
"They're disruptors in a traditional world. Pleasure lovers. Experts in wine-making. The place to be in Amsterdam. That's Chateau Amsterdam".
Harold Hamersma, Wine Journalist & Wine Critic
"Admittedly, I am chauvinistic. But the wines of Chateau Amsterdam are worthy of a national capital."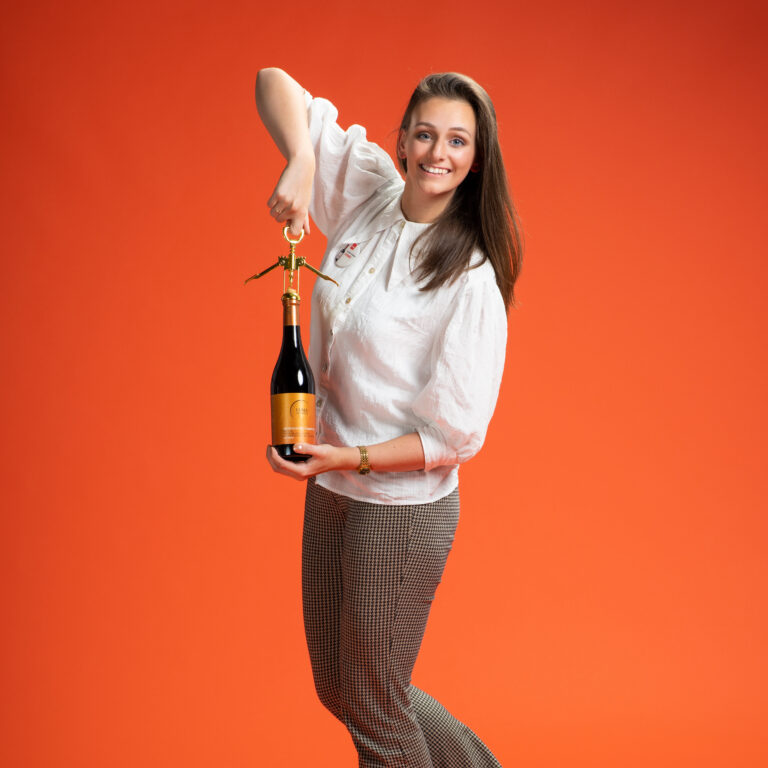 Lisan Jonker, Category Manager Wine at HEMA
"Chateau Amsterdam brings the magic of wine-making to the city. Their bottle-return-system steps in the right direction to a more sustainable wine world."
Investing in Chateau?
Our first public investment round has closed on 1 May 2022. 264 new investors became co-owners of our urban wine castle. Next to 70 existing friends they are now part of our group of friends and together we're building the largest urban winery in Europe. Together we're changing the world of wine.
Because of the success and large interest in the first round of funding we've made it possible to reserve stock for the next round. This will likely be in Q3 or Q4 of this year. The minimum investment will be €2.500. Reserving stock up front will give you exclusive early access to our investment platform to convert your reservation into an actual investment. Use the slider below to specify an investment amount, leave your details and we'll finalise the reservation for you. We'll also keep you up-to-date on the campaign via this way.
More information? Download our plans
Why becoming investor in Chateau is a good idea? Great question. We've made a pitch deck for you in which we explain all of our plans. In this deck you'll find more information on how we're planning on spending the money, what we've done with capital in the past and where are company stands now.
Frequently asked questions
The first group of 70 friends help us to grow and inspire. They help us with their talents, creativity and energy to bring Chateau to the next level. Or we'll just enjoy drinking a good glass of wine together while having a good conversation.
Lenneke van Ingen: Oprichter van A Million Faces en Creative Connectors – talent ontwikkeling en casting.
Bianca Pander: Mede-eigenaar van BKB – campagnebureau.
Jenny Elissen: Impact Investor verbonden aan o.a. PYMWHYMYC, en commissaris bij BUNQ en Transavia.
Gijs Kerbosch: Oprichter van Halal Amsterdam – film en fotografie.
Alexander Schuil: Managing Partner bij Novidam Capital Partners in New York.
Sjoerd Raaijmakers: Mede-eigenaar en directeur bij Vice Benelux.
Joris Snelten: Eigenaar Delta Wines.
Adriaan Nanninga: Bankier bij ABN AMRO New York.
Edial Dekker: Internet ondernemer (oa. Gidsy), cider-maker en toekomstig bierbrouwer.
Rolf Coppens: Oprichter GRRR, creative agency.
Daan Janssen-Roosenboom: Oprichter Chef du Web, online marketing.
Steijn Koeijvoets: Eigenaar 3S Music en management van o.a. MY BABY en Michelle David & The Gospel Sessions.
Arno Janssen: Offshore ingenieur en paraglider.
Marco Tiggelman: Marketeer en eigenaar Bucket Wines.
Deni & Lisa Harrewijn: Al vaak te hulp geschoten bij het maken van vintages 2017 en 2018; tevens consultant bij Comparex en docente onderbouw.
Marc den Hartog: Executive Vice President Innovation Platforms bij Corbion.
Esmee Langereis: Wijnjournaliste en co-auteur van de Grote Hamersma.
Richard Burger: Oprichter van Swapfiets.
Dirk de Bruijn: Ook oprichter van Swapfiets.
Cedric Muyres: Oprichter Snowstar Records en management van Kensington.
Sidney Vollmer: Reclame-creatief en schrijver.
Ewout Karel: Innovatiemanager bij T-Mobile en oprichter van Innovation Warriors.
Ikaros van Duppen: General manager inJazz en Buma Music in Motion; Buma Cultuur.
Dolf Reijnders en Bart Bongers: Oprichters van Flock Consultancy – organisational transformation.
Frank Kimenai: Europees cultuurconsultant met een expertise in de muziek.
Marcel Wiebenga: Muziek en reclameondernemer.
Lourens Hengst: Oud collega van Jos en service manager bij KEMBIT.
Birgitte van den Broek: Managing director bij TeslinCS – huis voor fondsen en trustdiensten.
Max Schimmelpenninck: Ook managing director bij TeslinCS – hetzelfde huis voor fondsen en trustdiensten.
Johan ten Dolle: Adviseur veranderingsmanagement, technologie en innovatie.
Jeroen Tebbe: Creatief strateeg en initiatiefnemer van No House Wine.
Rob Stam: Ooit planoloog bij de Gemeente Amsterdam, nu wijnliefhebber.
Paul Lindeboom: Freelance source manager binnen de voedingsmiddelenindustrie en vinoloog in opleiding.
Hugo de Haas van Dorsser: Copywriter en performance artist.
Mathilde Verdam: Postdoctoraal researcher bij het Academisch Medisch Centrum in Amsterdam.
Celine van Deest: Sales manager at Amsterdam Cheese Company
Bastiaan Kommers: Oprichter van DutZ collection.
Rick Nelsonberg: Oprichter van Oedipus.
Jeroen en Sascha Doucet: Eindbaas bij Ignition en innovatiemanager bij de Jaarbeurs.
Mark Schiefelbein: Metrics wizard bij menig digitale start-up zoals Revue en HousingAnywhere.
Thierry en Willemijn Westland: Oprichter van de Kaasbar en mede-eigenaar van het familiebedrijf achter Old Amsterdam en Maaslander.
Adam Dijkstra: Eigenaar van wijndomein Colonjes in Groesbeek.
Leonard van Buitenen: Horeca organisatie bij Festival De Parade.
Jos & Rita Harrewijn: Wijnmaker en mede-initiatiefnemers van Chateau Amsterdam.
Sidney de Koning: Founder & allround creative van Culinerd.
Richard Bross: Mede-eigenaar van QBS-Group en NoCeiling.
Ronald Eleveld: Ook mede-eigenaar van NoCeiling.
Henk Jan Beltman: Eigenaar van Tony Chocolonely.
Eric Altman & Victoria Castro Cortes: directeur Food & Retail Corporate Finance ABN AMRO.
Yvonne Nassar: Marketing directeur Van Gogh Museum.
Jan Willem Dekker & Jacqueline Niesten: Eigenaar van Brand Builders en founder van Sulfree.
Constant van Limburgh: Investeerder en ondernemer.
Huyb Monsjou: Eigenaar van Aerodynamics – private jets.
Patrick Albers: Senior sales consultant in de wijn.
Oscar Kusters: Zelfstandig beschermingsbewindvoerder en wijnenthousiast.
Valentijn Borstlap: Oprichter van YourHosting en mede-eigenaar van Resello.
Endymion Struijs: Oprichter Endymion Amsterdam – Accountants.
David Behrens: Oprichter Ping Media.
Vincent Lichtenberg: Frontend Developer.
Niels Walboomers & Jettie Muris: Managing Director Sony Music Publishing Benelux
Tom Walter: Nog een front end developer.
Herman Hintzen: Partner in HENQ Invest.
Koos Terpstra & Eveline Breen: Schrijver en toneelregisseur.
Niels Teves: Oprichter Fintage, intellectual media rights.
Karin van der Meijden: Finance & Ops at Chateau Amsterdam.
Fleur de Vries & Kris Marnette: Hoofd Marketing at Chateau Amsterdam & Product owner & People lead bij Bol.com
Mike Kalle: Kapitein bij de Nederlandse Armed Forces.
Investing is possible from €2500,-. Investing using the Eyevestor platform is possible for amounts less than €200.000. For investments that exceed €200.000 we'll directly connect you to our founder Remy. Please send an e-mail to sharefunding@chateau.amsterdam if you're interested or would like additional information.
Investing in our first round was possible until 1 May 2022. However, as mentioned above, because of the large success of and interest in this campaign we'll likely do another round of funding. This can be expected to launch in Q3 or Q4 of this year. To make sure you're in time, you can do a reservation of stock using the slider and the form above to indicate the amount you would like to reserve. You will exclusively receive access to buy your stock early and will be kept up-to-date of the start of a new investment campaign.
You will soon be able to buy a certificate of shares in the STAK Vriendenclub Chateau Amsterdam. The certificates of shares give you, as a Friend, economic rights, this means that you are co-owner and that you profit from the increase in value and also share in the profits when Chateau Amsterdam pays out a dividend.
Before any dividend is paid out, the board of directors of the B.V. must first decide what percentage of the profits will be reinvested and what portion will be allocated as dividend payment.
 No voting rights are attached to the certificates of shares. The certificates of shares are digitized on the Eyevestor platform. This digitization makes investing and trading easy without the need to go through a notary. On Eyevestor all forms of shares are called Eyecons.
Investing carries risks. So only invest if you have the financial capacity to lose the money. Apart from your deposit, you run no other risks and, as an investor, you have no other (future) obligations.
Chateau Amsterdam wants to grow mainly on the basis of equity, rather than just loans. In recent years Chateau Amsterdam has grown with the investments of its current friends, read more about them in the first question of this FAQ. And, as Chateau Amsterdam has big ambitions, it needs to make substantial investments, these investments cannot be paid with the current profits.
That's right. 69 people have invested before you; in recent years we have received fantastic support from these people, in money and in karma. Chateau has raised 2.5 million so far, of which 2 million in equity. And although this is a lot of money, it is not enough to realize our ambitions. We need money for three things now: 1. the new location, 2. working capital (the money needed to let the stock of wine grow along with it), and 3. start-up losses (thinking big means attracting good people and that costs money, these costs precede the benefits). 
This year we need at least an additional 4 million euros, and we need your help. You can participate in this in two ways: 1. by becoming a friend (certificate holder) for an amount between 2.500 euros and 200.000 euros through the next sharefunding round (Q3 or Q4 of this year). If you would like to invest more than €200.000, please contact us via sharefunding@chateau.amsterdam. We'll connect you directly to our founder Remy. 
Chateau Amsterdam makes it possible to become a digital co-owner via the Eyevestor platform. Eyevestor is an online sharefunding platform where organizations can place, digitize and trade their equity. Sharefunding entails raising growth capital through equity. This gives the company more ownership and avoids taking on debt, in addition to providing the opportunity for faster growth.
On your personal page on the Eyevestor platform you can keep track of how many certificates (shares) you have in Chateau Amsterdam in your dashboard (overview). For each transaction you also receive an email confirming your purchase and a transaction certificate which serves as proof. In your account you can find all your transactions and details per transaction. On Eyevestor the digital shares in Chateau Amsterdam (Amsterdam Winery B.V.) are called eyecons.
If you invest via the Eyevestor platform we may at some point allow mutual, and perhaps later external, trading, and you will of course benefit if the shareholders sell their shares to a third party.
Our aim is to make tradability possible when Chateau is profitable, according to forecasts we expect this to happen in 2024.
When tradability is possible, you determine the minimum price you want to receive. You do this anonymously. Buyers can then bid anonymously. If you receive a price you are happy with, you accept the buyer's bid. With each bid you receive an e-mail that a bid has been made. Once you have accepted the bid, the buyer has 24 hours to complete the payment. The payment is also done through Eyevestor and is paid directly (minus the Eyevestor transaction fee of 2.5%) to your bank account as recorded in your user profile on the platform.
By becoming a co-owner of a company, there are two ways to gain monetary value. On the basis of dividend payments (profit) and on the basis of the market price; the difference between the purchase price and the selling price of your depositary receipts. 
How high the return will be, can never be said with certainty. That value will be added to the company is almost certain. You are joining at a relatively early stage of Chateau Amsterdam, growing together from start-up to scale-up! If value is added to the company, this will directly influence the turnover and results, and therefore the value of the current shares.
We see good opportunities to break even from 2024 onwards and a nice profit from 2025 onwards. If you're the owner of share certificates, you'll receive your share. We have given our calculations to a Financial Valuator and he considers us good enough for a price of 100 euros per share in 2027. Not a guarantee, but a clear and, in our opinion, achievable goal.
The amount of the dividend is determined each year before 1 June after the adoption of the annual figures. The board decides whether the profit is distributed as dividend or reinvested. The expected dividend yield for the next three years is therefore very difficult to estimate, especially since Chateau Amsterdam, together with you as co-owners, is still a long way from maturity.
No. The Eyevestor platform charges 2.5% with a minimum of €1 per transaction. The seller, in this case Chateau Amsterdam, pays these transaction costs. So when you buy certificates worth €1,000, Chateau Amsterdam pays €25. 
If you decide to sell your certificates, you as the selling party will pay the transaction costs. So then you pay 2,5% with €1 minimum per transaction over your sale. The buyer pays nothing. 
Eyevestor also does not charge any fees to users and account holders.
The Eyevestor platform offers the possibility of running an export of your transaction(s) (investment) at any time. You can also export an annual overview from Eyevestor on the first of January. This provides an overview of how many certificates you have in which company and at what value. You could use this information for your own administration or tax return, for example. For questions related to administration, please contact support@eyevestor.com. 
No. Eyevestor does not charge a custody fee or any other costs or liabilities.
As for liability, there is none for you. When you invest, you buy one or more certificates of shares of Chateau Amsterdam (Amsterdam Winery B.V.), as an investor you are excluded from liability. Only the board of the company has liability. Shareholders who invest now can never be held liable for anything at any time.
The value of the certificates falls in Box 3 (capital) in the Netherlands. In Box 3, a so-called tax-free wealth of at least € 50,650 in 2022 (and € 101,300 if you have a tax partner) applies. See also this link. If the value of the shares exceeds the levy-free capital, you will have to pay tax. This is 30% over the average return. How much the average return is, depends on the bracket you fall with your capital (that exceeds the levy-free part). You can find more information on the website of the tax authorities.
You certainly can. Start by creating a user on the Eyevestor platform under your personal name. Pay with your business bank account when you make the investment. Later you can transfer your details to the invested company in the Eyevestor platform. If you have any questions, please contact support@eyevestor.com. 
 Taxation depends on your situation. In general, the proceeds of your investment are taxable within the corporate income tax. Both dividends received and capital gains realized constitute taxable income for the B.V. and are subject to corporate income tax. In 2022, this corporate income tax is 15% up to a profit of € 395,000, everything exceeding this amount is taxed 25.8%. 
 When dividends are distributed, withholding tax is deducted, which can be settled as an advance on the corporation tax owed.
Yes, the B.V. and the STAK are Dutch entities, founded and registered at a Dutch Notary and fall under Dutch law. The sharefunding of Chateau Amsterdam will be reported to the AFM (Netherlands Authority for the Financial Markets). This document will be shared with you later and can be downloaded on the Eyevestor platform from March 21st, before you invest.
If your question is not answered in this FAQ, please feel free to reach out to us by sending an e-mail to sharefunding@chateau.amsterdam. We'll try our best to answer your question within one working day.
Something unclear? Feel free to contact us
We completely understand if you have any questions regarding this campaign. If we haven't completely answered your question in the FAQ above please feel free to reach out. Send an e-mail to sharefunding@chateau.amsterdam and we'll strive to answer your question within one working day.
How does an urban winery actually work?
Wine making in the city, how do we do that exactly? And more importantly: who and what are involved in this proces? We invite you to come take a peak behind the scenes.
Eggs turn into chickens.